Remarketing is always one of the most effective means of e-commerce marketing circles, but in the fourth quarter attaches increasing importance.
The holidays are important and rapid rapprochement, great position to be in great festive rush. I outlined the following five favorite remarketing stratégiámat.
1. Dynamic Product Ads (Facebook and Google)
If e-commerce website is a significant number of products, and dynamic ads do not perform remarket, then a big mistake.
2. audience targeting
The remarketing campaigns starting major flaws, it usually is to reach all audiences who visited website, but they did not convert from a client.
3. sequential remarketing
instead of, to target the same audience and creativity, displays the message over and over again, sometimes, to test a variety of ads (try to encourage more users to the times and convert them to a client).

4. Remarketing lists the date specified in
One tactic, as used in success, audiences created some holidays – for example, the website received over the Black Friday or Cyber ​​Monday.
These groups comprise those visitors, who do not have the typical customers. Then, the following fourth quarter to take advantage of these audiences and remind them, to buy gifts for their loved ones again.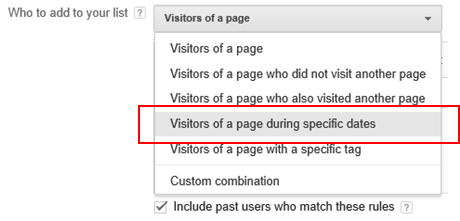 5. A comprehensive strategy RLSA
Allows, to target audiences more aggressive the higher bid, These are people who have visited your site, but not converted, but continue to seek products, services. Since they already know your site, the goal is, and to bring back them to win the conversion complete.
In addition, you can create separate campaigns, or a wide range of highly competitive / It contains costly phrases, which are not normally offered, and these campaigns Remarketing lists . Since you are looking for an audience, iusmeri who have visited the Web site service / product, CVR will see higher values, and be able, CPAs to create the conditions to be achieved.
The sooner you take these games introduced, the more data is available for quick and efficient optimization, when traffic is hot (and more expensive). Good luck!